The Franklin Regional Council of Governments (FRCOG) is a regional service organization serving the twenty-six towns of Franklin County.
Franklin County is the most rural county in Massachusetts with a population of 72,000 over 725 square miles and located in the upper Connecticut River Valley in Western Massachusetts.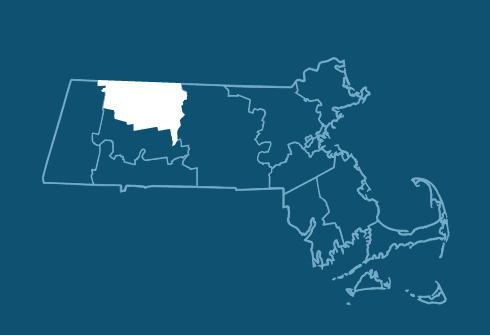 Mission
The FRCOG's mission is to foster a vibrant, sustainable region for all, and to leverage resources that promote collaboration and efficiency within our member communities. We do this by providing advocacy, planning, and cooperative services – both proactively and in direct response to our member communities' needs.
History
The FRCOG is the former county government, which was abolished in 1997 and reestablished as a Council of Governments. This changed the organization's governance and financial structures. The FRCOG is a voluntary membership organization and the 26 municipalities of Franklin County are members; the membership assessment is as low as possible and pays for administration, advocacy and special projects (and is still $150,000 less than 1996 county government assessment). Participation in municipal service programs is voluntary and paid through separate assessments with assessment formulas unique to each program; federal and state grants fund other programs and are pursued to fund local and regional initiatives.
Today the FRCOG operates 12 programs with more than 50 staff. Our annual operating budget is approximately $5 million. The organization's focus is overseen and directed by a 29-member Council.
What's the difference between a Council of Governments and a Regional Planning Agency?
Part of what makes the FRCOG unique is that it is both a Council of Governments as well as the designated Regional Planning Agency for Franklin County.
Councils of Governments are created to provide cooperative planning, coordination, and technical assistance on issues of mutual concern that cross jurisdictional lines. COGs have expanded authority, through the agreement of member municipalities, to respond to municipal need and issues.  Over the years the FRCOG has evolved to provide critical municipal services to the rural municipalities of Franklin County including building and health inspection services, procurement and collective purchasing of municipal products and services, and municipal accounting.
Regional Planning Agencies were created by Massachusetts General Law in 1974.  The purpose of Regional Planning Agencies is to comprehensively study, plan, and recommend how a region can protect and enhance its environment, economy and quality of life through the study of land use, natural resources, climate resiliency, economic development, transportation, and using analytical tools like Geographic Information Systems (GIS).
Current Internal Projects
Prior to COVID-19, the regional understanding of the role of Preparedness Program staff during an emergency was to provide some technical assistance while towns collectively managed their individual response (EPP staff are overwhelmingly grant-funded–traditionally, there has been no funding to pay FRCOG Preparedness staff to provide direct response coordination).
The level of technical assistance and operational coordination required of the FRCOG and the Emergency Preparedness Program was unprecedented, and required thoughtful analysis to inform our organizational role in the region during future large-scale or long-duration states of emergency.  With that role more clearly defined, we can pursue the necessary mutual agreements and funding to plan for the future.
Throughout 2022, the FRCOG engaged in organizational and programmatic After-Action Reviews to evaluate:
The role of the FRCOG overall, as well as the role of the Emergency Preparedness Program, in regional response coordination, a need evidenced by COVID-19
The efficacy of current Emergency Dispensing Site Plans and planning processes
The impacts of multiple preparedness planning groups advising the FRCOG and Emergency Preparedness Program
The FRCOG contracted with Ardent Decisions Group, an established and respected consulting firm with decades of experience in post-incident analysis. Ardent worked with the FRCOG to design and conduct stakeholder surveys, interviews and focus groups amongst all communities and government sectors within the region.
In 2023, the FRCOG will work with the findings to better position itself to aid in planned for and mutually agreed-upon regional coordination with our member communities.
As the FRCOG celebrates its 25-year anniversary, we are preparing for the retirements of long-time staff, many of whom are in leadership roles.  The FRCOG is engaged in a succession planning effort to ensure our strong future.  Work is divided into three buckets:
Examining the FRCOG's Organizational Structure
The FRCOG's current organizational structure evolved out of need during relatively rapid expansion of programs and services.  A special committee made up of FRCOG staff, Council members and Town Administrators was formed in 2022 to examine and understand the current administrative structure of the FRCOG and to suggest a structure that keeps the FRCOG strong into the future.  As long-time staff retire, a new organizational structure will be introduced. The most significant change to the structure will be to add a Deputy Director to the hierarchical structure of the FRCOG in recognition that the FRCOG's size and complexity warrants an administrator focused on internal operations and coordination.
Financially Preparing for Retirements
Based on salary surveys of similar organizations and the FRCOG's recent experience with hiring, it is anticipated that replacing leadership roles may more expensive than current salaries.  In anticipation, the FRCOG is attempting to prepare budgets for higher expenses.  We are in the midst of making longevity adjustments for staff that have not moved through the FRCOG's salary ranges in a consistent fashion and are developing a method to more regularly acknowledge performance and longevity.  The Council has also created a salary reserve that can be used to potentially cover the cost of higher salaries while budget are adjusted to cover additional salary expense.
Staff Development
We hope that some long-time positions can be replaced through promotion of our existing staff.  Staff that have been identified by supervisors or have self-identified as interested in being considered for promotion are receiving leadership and management training.  In addition, staff meetings have focused on the history, budget, structure and governance of the FRCOG so all staff understand the basic structure and operations of the FRCOG.
In the spring of 2022, the FRCOG formed an internal workgroup to evaluate and evolve the organization in areas regarding diversity, equity, and inclusion. Comprised of FRCOG staff with a variety of social identities, the workgroup has representation at all organizational levels.
We are moving at a deliberate and thoughtful pace to ensure all workgroup members have a common understanding of organizational diversity, equity, and inclusion concerns. The workgroup will collectively receive further training, and the FRCOG will investigate the hiring of a consultant to help guide our efforts.  With these steps complete, the workgroup will then advise the FRCOG administration and Council on the efforts and metrics to best evolve the organization to be more diverse, equitable, and inclusive.
We are very early in our process, and know that we will learn a great deal along the way. We view our member communities as our partners in these efforts, and will provide updates on our progress.