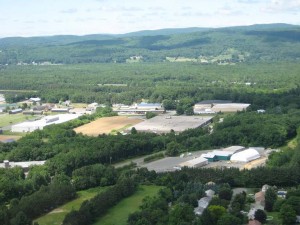 The Deerfield Economic Development Industrial Corporation (DEDIC) was established in 1977 to implement industrial activities in the Deerfield Industrial Park according to an Economic Development Plan (EDP). Since the establishment of the Park, the industrial and manufacturing sectors of the economy have been substantially altered by the increased effects of globalization and more efficient technologies. While manufacturing remains a prominent economic driver in Franklin County, the nature of the industry and the economy have changed in the ensuing four decades since the publication of the first DEDIC EDP. In 2015, the FRCOG Planning Department worked with DEDIC to develop a revised EDP for the Park that reflects an updated vision of how industrial activities have changed in the 21st century, envisioning a more contemporary mix of industrial and commercial uses.
The revised EDP and associated Zoning Bylaw amendments to allow for expanded commercial uses in the Industrial Park were approved by Deerfield Annual Town Meeting on April 27, 2015. A copy of the EDP can be found on the Deerfield Town Website at: http://www.deerfieldma.us/Pages/DeerfieldMA_News/0211CB28-000F8513
DEDIC and the Town of Deerfield are currently working with the Town's legislative representatives to seek the enactment of Special Legislation codifying DEDIC's expanded authority under M.G.L. Chapter 121C. A new set of Industrial Park Rules and Regulations is also being developed that are more in alignment with the current needs of the Park and the community's economic development goals.