A culvert is a structure that channels water under an obstacle, or moves it in a desired direction away from roads, homes and other infrastructure. Culverts are often a pipe or concrete box, typically under a road, enabling stormwater runoff to pass under a roadway rather than over it. Varying in size depending on the amount of water they need to move, culverts are an important, yet often unseen, part of a community's climate resilient infrastructure.
Every Franklin County community has hundreds of culverts; in order to prioritize maintenance and upgrades by municipal DPWs, it is critical to determine the condition and location of each of these drainage structures. Because time and budget constraints make it difficult for all towns to incorporate this work into their schedules, the FRCOG secured grant funding in order to do this culvert assessment work on their behalf.
Assessments are conducted on all town-maintained roads in a community. The field work includes: locating every culvert and marking each inlet and outlet with GPS; evaluating the physical state of each inlet, outlet , and the interior of the culvert, if visible; documenting conditions with pictures; and providing an overall condition rating of each culvert. The FRCOG creates both a hardcopy map and an interactive online map including all of the information for the Town to use for its own maintenance and capital improvement planning.
In 2021, FRCOG completed culvert assessments for Deerfield, Leyden, and Montague. With the addition of these 3,351 documented culverts, our total culverts assessed and mapped in Franklin County total 5,834.
High-Risk Stream Crossings
The reports of High-Risk Stream Crossings in the Deerfield River Watershed are now available. The information in the reports and maps is from a pilot project completed by the Massachusetts Department of Transportation (MassDOT) and the University of Massachusetts, Amherst (UMass) that assessed the vulnerability of road-stream crossings to precipitation events. FRCOG planning staff compiled this information for each Franklin County town within the watershed as part of the FY18 Franklin Region Unified Planning Work Program. The purpose of the maps and reports is to help municipal officials and public works staff prioritize bridge and culvert upgrades in their town. The reports also provide information on how to make road-stream upgrades more resilient to current and projected precipitation conditions, and list potential funding sources for upgrading crossings.
View the 2018 High-Risk Stream Crossing Reports: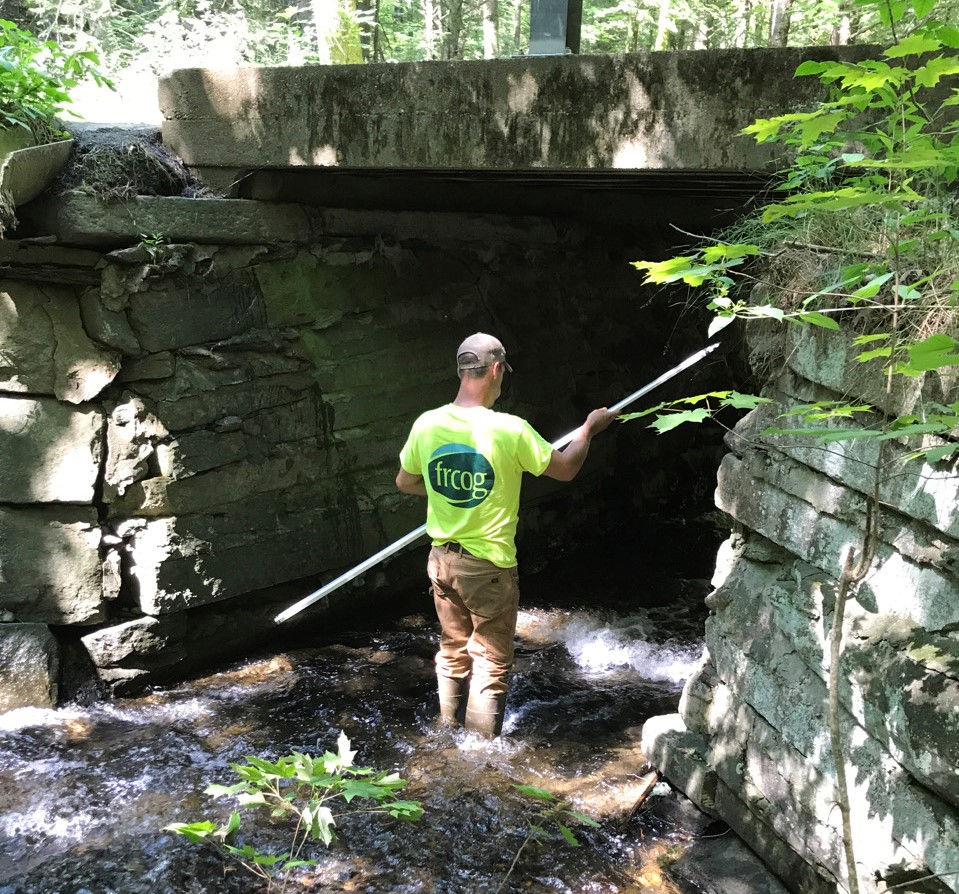 The Sustainable Stormwater Management Plan for Franklin County utilizes a screening level approach for assessing potential stormwater Best Management Practices (BMPs) for three common types of transportation construction projects: Downtown Revitalization, Complete Streets, and Rural…
These reports provide a summary of the road-stream crossings (culverts and bridges) in the towns linked below that are considered to be at high risk of failure from heavy precipitation…
Ryan Clary
Sr. GIS Specialist
Megan Rhodes
GIS Program Manager and Planning Coordinator