Boards of Health are responsible for protecting the public health by enforcing the state standards laid out in a number of  Codes.  Some of the most important public health protections are those that protect children while away from their families at summer camp, and those that keep swimming pools safe for swimmers. CPHS staff  support our member Boards of Health  in this work by inspecting and licensing summer camps and pools, and issuing beaver permits, among other functions.
Note: This section of the website covers the Community Sanitation Codes that are not about housing safety.
Local Health Departments inspect and permit swimming pools and spas open to the public at parks, camps, hotels and lodging places.  Pool safety includes signage, fencing, monitoring of chemistry, the training of the Certified Pool Operator and any lifeguards, and more.
A licensed recreational camp for children may be a day or residential (overnight) program that offers recreational activities and instruction to campers. There are certain factors, such as the number of children the camp serves, the length of time the camp is in session, and the type of entity operating a program, that determine whether a program is considered a recreational camp under Massachusetts law and regulations and therefore must be licensed (see M.G.L. c. 111, §127A and 105 CMR 430.000: Minimum Standards for Recreational Camps for Children).
If a camp meets the definition of a recreational camp it must be inspected and licensed by the local board of health in the city or town where the camp is located. It must also meet all regulatory standards established by the Massachusetts Department of Public Health (MDPH) and any additional local requirements. CPHS Health Agents and Nurses visit each camp to review policies for handling sick children, disciplinary issues, and more, and review the criminal records checks of employees and immunization records of the campers.  Examples of things inspectors look for include: safe structures and equipment; adequate sanitary facilities; sufficient supervision of the campers; appropriate plans in case of medical emergencies, natural, and other physical disasters; sufficient health care coverage; and injury and fire prevention plans.
Beavers provide many benefits to their environment. However, the beaver population in Massachusetts has tripled since 1996 and this increase has led to some negative impacts. Beavers live in aquatic areas where they build dams and lodges to live in, and flooding can result when a beaver dam raises water levels. Two common solutions for flooding caused by beavers are breaching or removing the dam and Water Level Control Devices.
Emergency Permits must be obtained from your local Health Department before taking any action. A Problem Animal Control (PAC) agent can be hired to install water control devices (also known as "beaver deceivers"), or trap beaver on your property.  If you have a license, you can trap beavers using permissible traps during the open season (November 1st – April 15th). You will need to register your traps with MassWildlife if they are on someone else's property. You will need an emergency permit from the Health Department if you plan on using restricted traps or trapping beaver outside of the open season. Residents of CPHS member towns can apply for this on the CPHS permitting page.
Apply for recreational camp for children permits, family-style campground permits, and beaver trapping/dam breaching permits below.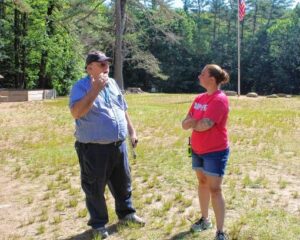 Links
Christian's Law (requirements for personal flotation devices for children at freshwater or ocean beaches,)
Link to housing section of CPHS web page
Randy Crochier
Health District Program Manager
Kurt Schellenberg
Regional Health Agent
Jasmine Ward
Regional Health Inspector